To Use Chinchilla Supplement or Not?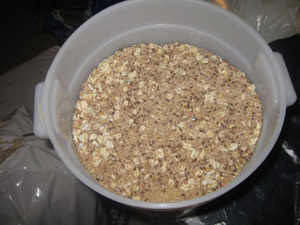 To be fair, offering Chinchilla supplement started with the big ranches. Some still sell it, they build cages with a supplement "dish"... because many in the public adopted their practice. But I know of no larger ranches that still do it. Most believe that a quality feed is really all that chinchillas need.
I firmly believe that a supplement is unnecessary, so don't go to the expense if you don't want to. On the other hand, the chinchillas love it (so don't ever mix it with their regular food - they'll knock all the pellets out of the dish looking for more!) and it might help.

My Chinchilla Supplement
Red Wheat Bran - roughly 1 part
Rolled Oats - 3 parts
Wheat germ - 1 part
Flax seed - 1/2 part
Rolled Wheat - 1 part
The supplement formula I use is simply based on what I know ranchers put in theirs and what is easily accessible to me. You can experiment with your own mix if you like, but be careful. Don't offer it as a replacement for their regular diet (offer it after they eat if possible) and give them no more than a pinch.
While this could be considered a treat, that is another entire discussion.