Chinchilla Treats

Every pet owner wants to spoil their pet. It's safe to say that no pet really ever needs a treat (or most humans, for that matter!), but we still love to please them. And what a chinchilla will do for a raisin! Many warn that raisins are incredibly dangerous for chinchillas, as they cannot metabolize the sugars like other rodents.
As a occasional treat, given their wide use, they probably do little harm in the short term. But... they can lead to problems down the road.
Best to stick with treats that are sugar free, such as rose hips, plain Cheerios, and oats. Chinchillas under six months should never have treats. Chinchillas should not have lettuce or fresh vegetables, it puts them at risk for bloat. Fruits are okay occasionally.
Chinchillas will eat too much of treats, so they won't self regulate as they will with pellets and hay. They will not benefit (or gain weight) from foods high in fat or sugar, and their constant use will certainly lead to health problems later on.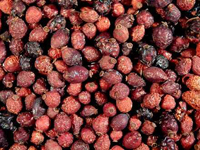 Reccomendation: Avoid all chinchilla treats unless specifically used to train your chinchilla. If you feel you must give a treat, use something fat and sugar free (which probably means NO human food!)
Do you have a treat reccomendation? Something we could add to the list?
Share it and perhaps we'll add it to the page.