Finding the Right Chinchilla Cages
Chinchilla cages are where, as a new owner, you want to be smart. With some careful consideration and good advice, you are going to save some money!
Everyone starts with a small cage and, within a year or two, upgrades to something bigger and nicer. Why not take the plunge right away and save yourself the expense of purchasing two cages? By getting a cage you will be happy with forever you will save yourself the annual search for "the perfect cage".
Of course, if you REALLY want to save money you can build your own cage. This might be a good choice anyway, as it's the only way you might achieve several features that you want.
Lots of Choices...
You can walk into a large pet store and find many cages - but most of them would make a poor choice for a chinchilla.
How about this choice? A nice looking cage from PetSmart, right? It's exactly the kind of cage they'll encourage you to buy (it's marketed as a "chinchilla cage") but it's a bad choice.
It's almost all plastic, and chinchillas are rodents. That means they will chew whatever they can sink their teeth into. There is a good chance they will shred all those pretty shelves and ramps quickly. Also, it has ramps (unnecessary for chinchillas as prefer to jump) and a tall cage is dangerous if they can fall all the way to the bottom.

---
So you need a sturdy metal cage. If you're keeping adults 1 inch gaps are fine. If you are planning on breeding you'll need no larger than 1 inch by 1/2 inch spacing between the bars. Wooden or wire (or some unchewable surface) are a must for shelves. Ramps should be eliminated as they present an unnecessary hazard. You don't need a very large cage, especially if you plan on letting your chinchilla our for frequent exercise. The bottom may be solid or wire, but if it is wire give your chinchilla a piece of wood to rest their paws on.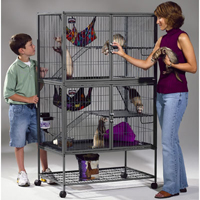 The Ferrret Nation cage is easily adaptable for the chinchilla with some custom pans. It can be divided into two separate cages or provide one huge cage. The cage should cost about $175 plus shipping, and you can get the custom pans for a reasonable price from Bass Equipment. The ramps are removable and you can upgrade afterwards to wooden shelves (purchased separately).
This is probably the most popular choice among knowledgable chinchilla owners, as it is an attractive cage that will last a very long time.
Another solid choice is a chinchilla cage from Quality Cage (below). These cages come with wooden shelves, and they have cages of several sizes. This is a cage you would also be happy with, and you may well be getting a wheel from Quality Cage anway.
You might find a similar cage locally, although that seems more and more difficult as the pet stores seem to be moving more to online sales. Smaller metal cages will be available, but I strongly urge you to carefully consider whether you will be happy with this cage in six months or a year. Of course, you should also consider the space you have, for these cages can run rather large (perfect for that big exercise wheel!)
You may be considering a more commercial cage if you are becoming a breeder.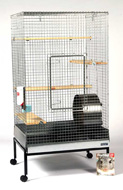 If you can find the right cage, and you're a little handy, you also have the option to build a cage.
Have a great cage idea? Want to show off your great setup?
Do you have a great cage setup or idea? Something you've built that you chinchillas love? Advice on how to create the best chinchilla environment?

Share it here!
What Other Visitors Have Said
Click below to see contributions from other visitors to this page...

Twin Chinchilla Cage

This is two L shaped cages on the same frame. The center is a little area to keep chinchilla supplies. The outside is all plexiglass. We are still going …