Chinchilla Questions
Many chinchilla questions come up often, so to save you some time we'll answer the most common here. If you have a question you don't see answered ask below!
Should I get a male or a female chinchilla?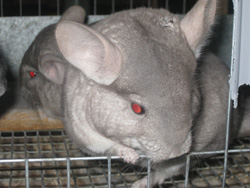 There is not a best answer to this - it really depends on the individual chinchilla. In my experience, though, if you get only one chinchilla it should be a male. They tend to have better temperaments and they don't spray urine. My boys always seem to like their behind the ear scratches more than the girls!
Is it best to have one chinchilla?
One chinchilla can be perfectly happy if you give them a lot of attention. In the wild they do live in herds, so depending on the match they may be happier with another chinchilla (or two). Once they are bonded they may be life partners, as long as you don't introduce the opposite sex - that introduces many new problems.
So get one chinchilla if you can lavish them with much attention. Otherwise, get two or three (same sex) chinchillas and create a small family.
---
Are chinchillas good pets for children?
Generally, I'd have to say no. There are exceptions in the case of the exceptionally responsible child, but having adult supervision is ideal (as is the case with any pet). Chinchillas are not a "snuggly" animal. They don't really like to be held, although many will tolerate it, and chinchillas certainly don't like to be squeezed or hugged. Their diet cannot handle many snacks (although children delight in giving them as many as they'll eat!) and they do require daily attention.
I'd recommend a child younger than 13 assist someone older in caring for a chinchilla before they take the responsibility on themselves. Remember, this can be a 10-15 year committment.
---
Do chinchillas get along with other animals?
I've never seen a chinchilla bother another animal, but several animals will pester a chinchilla. I've had great experiences with my big dogs... they let the chinchillas run all over them! But my parents had a pomeranian mix, and his mouse hunting instinct took over - he couldn't take his eyes off them. Just consider that chinchillas need quiet during the day and a consistent diet.
Okay to be around (but never caged with!) are nice dogs, mellow cats, guinea pigs, dwarf rabbits, and some quiet birds.
They won't do well around loud, hyper, or hunting animals, such as small dogs, loud birds, large rabbits, many cats, mice, and rats.
Do you have a question about chinchillas?
Do you have a question about your chinchilla? About breeding? Cages? Dust? Water bottles? Anything chinchilla related?

What Other Visitors Have Said
Click below to see answers from other visitors to this page...

Find more answers to your chinchilla questions on our pet chinchilla page.