Welcome to the Chinchilla Source!
All the chinchilla information you need:
We are the one stop source for all your chinchilla needs!
Are you new to chinchillas?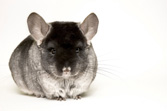 You can start with our page for prospective and new owners. Here you'll find everything you need to start with. If you don't yet have a chinchilla you can head to the breeder's page or our forum to find a friend.
Do you have a question about chinchillas? Head to the question page and have it answered!

---
Looking for a Cage?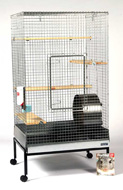 There are many choices in cages, and no perfect choice. It really depends on your needs.
Here are some of the better choices and what they will cost you. Most people change their cages every few years, so this is where you could probably save the most money.
Do you know a lot about chinchillas? Are you interested in helping to create the best resource on the web for chinchillas? Contact us to find out how you can benefit!
Recommendations for chinchilla food. Is there a clear winner? See our choices and share your own.
Looking for the best Chinchilla books? Here you'll find recommendations on the best recent books for pet owners and breeders.
Need a new cage or water bottle for you chinchilla? Wondering about the best bedding or how you can save money? The answers are here!
Chinchilla training takes a lot of patience and some good knowledge. Get help here that you might be able to use with all you pets.
Chinchilla health tips - how to spot illness and what you can do to prevent and treat problems at home.
Find answers to your chinchilla questions.