Chinchilla Shows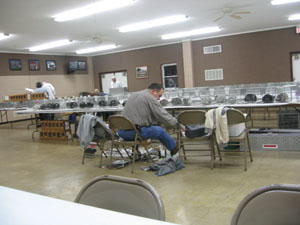 Are you interested in breeding? Do you want to know what makes up a quality chinchilla? If so, you need to attend some chinchilla shows.
At a show you have the chance to see many chinchillas and hear what a judge thinks of them. You'll also get a chance to meet and talk to some of the most knowledgable people in the field.
If you already have some chinchillas and you are thinking about breeding, this will give you a chance to see if the chinchillas are of a good enough quality.
If you don't have chinchillas yet there are always chinchillas for sale. Just scout the table before the show and at the lunch break and talk to the owner. You can even get an honest judging of their quality!
It is a long day. They usually judge the mutations (colors) in the morning and the standards in the afternoon. Just be as quiet as you can and listen to what the judges have to say.
There are two chinchilla organizations that sanction chinchilla shows - the Mutation Chinchilla Breeders Association and the Empress Chinchilla Breeders Cooperative.

---
Coming soon:
How to prepare for chinchilla shows.